WINCHESTER NEWS GAZETTE - RICK REED
Golden Bear Sophomore Trains in the Pool and Advances to the Semi-State
Carter Miller's journey to Saturday's New Haven Semi-State is certainly an amazing one.
A stress fracture early in the season might have marked the end of the road for some distance runners. But Carter, just a sophomore, showed he isn't your ordinary distance runner.
Miller was expected to be one of Monroe Central's top runners entering a season that had the Bears primed for a big season. Junior Caden Shumaker and sophomore Tucker Burris, along with Miller, were expected to lead a pack with great potential
.When Miller was lost to what would be a lengthy injury, the team had to forge ahead, and with Shumaker, Burris and the emergence of freshman Caden Landis, along with solid runners through nine, Monroe Central put together a decent season, winning a county championship and placing well in most invitationals.
But for the better part of eight weeks, Miller was unable to join his teammates training every day, trying to get in better shape, trying to prepare for the ultimate day when could would run in the sectional so they could advance as far as possible in the state tournament.
Instead, Miller spent two hours every day in a swimming pool, trying to rehabilitate and trying to stay in shape. It wasn't until Sept. 28 at the New Haven Invitational when Miller could resume competing. The sophomore placed 77th with a time of 19:35, more than a full minute slower than where he was running at the end of last year.
It was a certainly understandable first outing.
At the County Meet, a few days later, Miller ran a 20:39, good enough for seventh, but not anywhere near his normal.
But four days later at the Mid-Eastern Conference Meet, it was clear he had a breakthrough. He ran stride for stride with Shumaker and Burris and finished ninth, but this time with an eye-opening time of 18:07.
That performance changed the outlook for the Bears. With the sectional looming a week away, Braun and the Bears were suddenly thinking about more than just finishing in the top five teams in the sectional, which is what is needed to move on to the regional. They start believing they could actually win the sectional – a tall order since no other team in school history had brought back a championship trophy.
And sure enough, on Oct. 12 at the Muncie Sportsplex, the Bears fulfilled that dream with nearly everyone on the team turning in personal bests. Miller was ninth overall, right behind Shumaker in eighth. Burris ran like a man possessed and took fourth. Landis was right behind Miller in 11th and senior Chris Nunez ran the best race of his career and finished 18th. Kyler Shumaker was 20th.
For the one and only time in the 55-year history of the existence of Monroe Central, the school had a sectional championship. And with all due respect to ever other Bear, without Miller it would not have happened. In fact, take Miller out of the scoring and Wapahani's total team points dips to 57. Monroe Central's goes up to 61.
That's not even to mention that the return of Carter gave the Bears a much-needed jolt of confidence.
Braun said he felt his team would win the sectional because of a great practice the team had on Wednesday before the sectional.
"I knew we had a special group," says Bears' coach Ron Braun. "They've had such great attitudes and been such a tight-knit group. I was so proud of them for winning the sectional."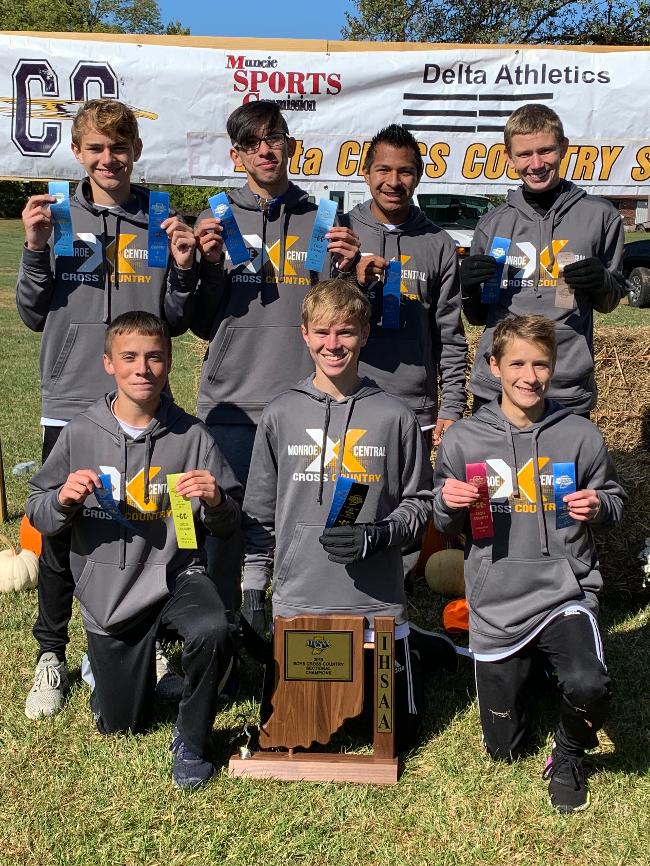 2019 Boy's IHSAA Sectional Champions!
Front Row (L to R) - Tucker Burris, Caden Shumaker, and Caden Landis
Back Row (L to R) - Kyler Shumaker, Chris Nunez, Marco Davis, and Carter Miller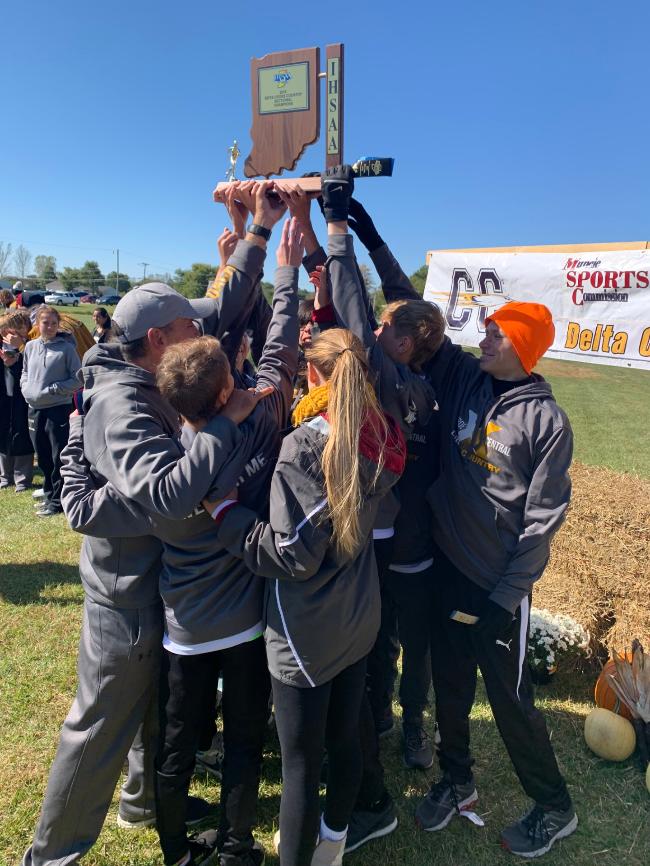 The 2019 Boy's Team and Coaches holding up the IHSAA Sectional Trophy!