FIRST MONROE CENTRAL CROSS COUNTRY TEAM (1963-1964)
THE HISTORY OF MONROE CENTRAL CROSS COUNTRY BEGAN IN 1963!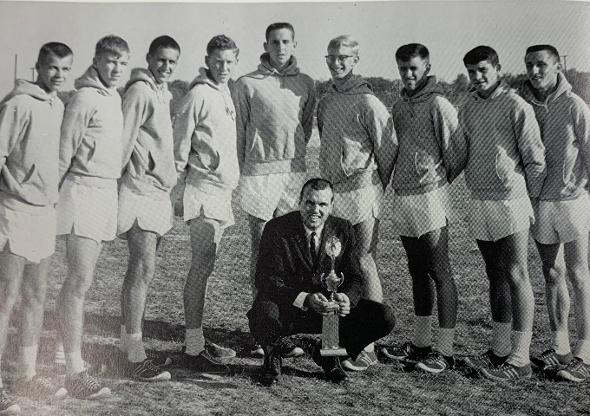 CROSS COUNTRY TEAM, Kneeling: Mr. Owen, Coach. Standing: Ken Peak, Dick Beeson, Rex Hiatt, Larry Fields, Dan Gale, Keith Miller, Ed Reese, John Hendricks, Don Winans.
The first Monroe Central cross-country squad had a very successful season during 1963. The team, led by senior runners Ed Reece, Don Winans, Keith Miller, Dick Beeson, and Larry Fields, posted a perfect record in dual competition and won or scored high in all triangular and quadrangular events. In tournament action the Golden Bears were victorious in the Yorktown Invitational, placed seventh in the Shortridge Invitational and finished the season with an either place sectional performance in which thirty-one teams competed.
Team captain, Ed Reece, was seldom bested this year, scoring wins in all regular season meets, winning the Yorktown Invitational and placing third in the Shortridge meet and also the Sectional Meet at Anderson. Ed posted school records of 10:02 (2 Miles) for the Monroe Central course and 10:13 (2 Miles) for a sanctioned event.
The 1963 reserve cross country squad also performed well this season. They were victorious in all their regular meets and received valuable experience at the Shortridge meet in Indianapolis.